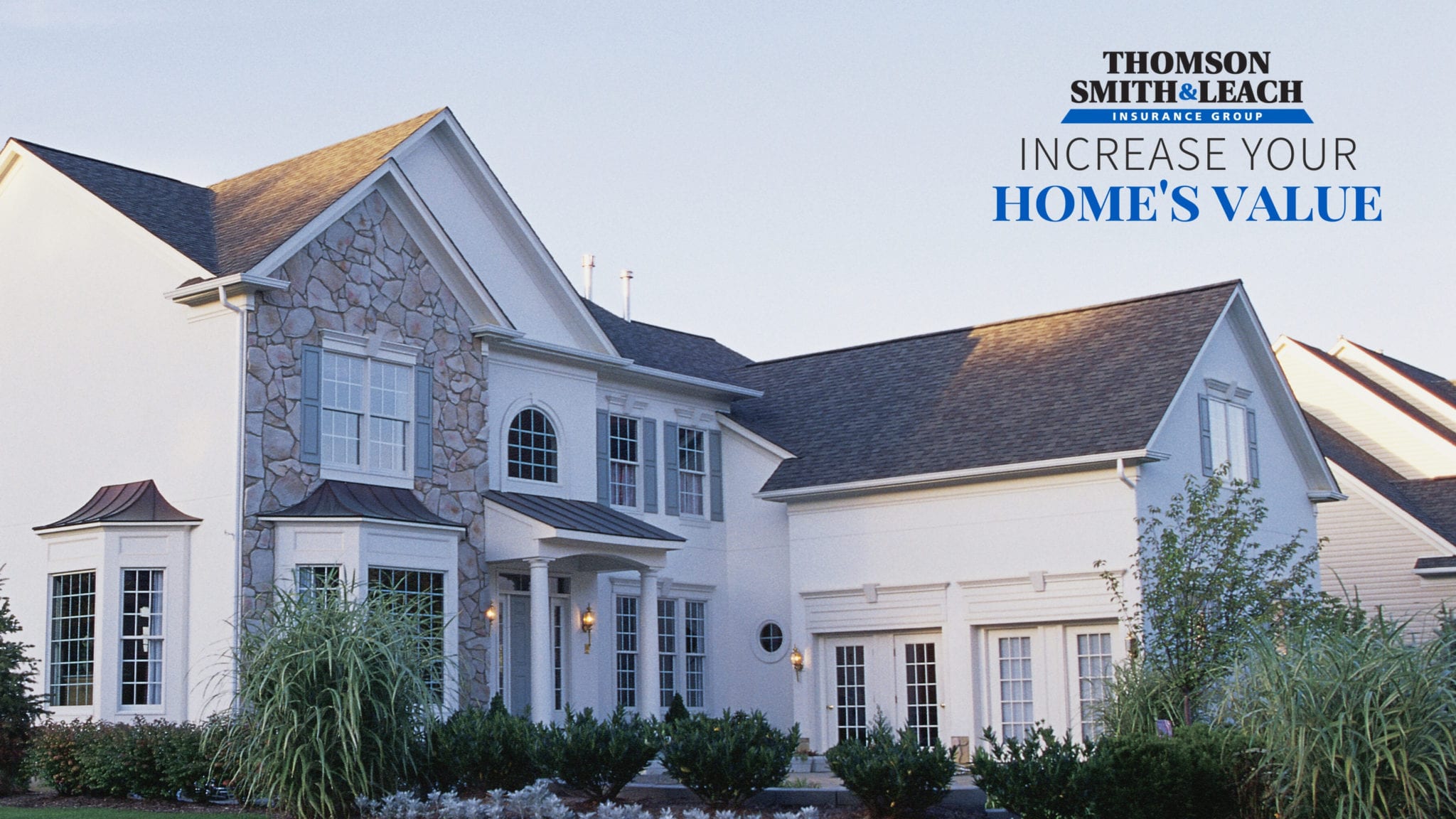 How will the coronavirus impact the housing market? Only time will tell. But if you plan on selling your home in the future, now is a great time to contemplate how you can increase your home or property's value. And even if you plan on staying in your home for many years to come, there are certain measures that can be taken to ensure that your home holds onto as much value as possible. Since it is in your best interest to stay home, it may not be easy to tackle every item on this list, but it should give you a general consensus of what you can do now and what can be saved for the future.
5 Steps to Increase Your Home's Value
1. Make Your Home More Attractive
It's never a bad idea to make your home easier on the eyes, whether it's from the exterior or the interior. As with all home projects and renovations, increasing the curb appeal of your home or property doesn't have to break the bank, especially in a time where saving money is crucial. Before driving to the hardware store for your next DIY project, make a list of easy—and more importantly, free—things that can be done around the house to achieve a more aesthetically pleasing space. This can include mowing your lawn, mounting your garden hose, utilizing a weed trimmer and maintaining any existing landscape, breaking out your leaf blower to blow away any leaves or debris from your patio or driveway, and even using a pressure washer to blast away years of built-up dirt. Tough times call for creative endeavors, so after you've accomplished everything on your no-cost list, then feel free to turn toward more budget-friendly tasks. This can include building or buying shutters for your windows, or even painting your front door for a small, yet mighty pop of color. Although the exterior of your home is important—due to the fact that it serves as a first impression for any guests, potential buyers, or simply anyone driving by—the interior's appearance is just as significant. Take this valuable time to give the inside of your home a little extra TLC and do all of the tasks that you find yourself putting off, such as cleaning ceiling fans, dusting blinds, or cleaning baseboards. It's also a great time to research online home renovation resources including blogs, videos, magazines and forums to get some kitchen and bathroom design inspiration. 
2. Make Your Home Low-Maintenance 
Although being in quarantine has put a hold on bigger renovation projects, it's still a great time to start thinking about how you can make your home low-maintenance—especially if you plan on selling it in the near future. Some buyers do not want to purchase a home that requires massive upkeep, or a home that requires too much consistent maintenance. By replacing and renovating major, or even minor components of a home, you can lessen post-purchase regret, and allow whoever buys your home to feel more confident in their decision. For example, rooms with carpet are mostly seen as out-dated, with some people believing that carpet is rock bottom and others believing it is great for a niche market. Modern homes nowadays thrive on beautiful hard surface floors, such as wood or tile, that are easy to clean. Replacing carpet, which serves as a threat for potential stains, can increase your home's value by a long-shot. Other low-maintenance ideas include replacing the water heater or replacing a roof that has given trouble in the past. As stated before, due to the coronavirus, some of these tasks can be hard to accomplish. If you cannot order the supplies online to aid in these tasks, then simply use this time to make a list of areas to tackle or supplies needed so that when the Stay At Home order is lifted, you'll be ready to engage in any maintenance function necessary to boost your home's value. 
3. Make Your Home More Efficient
As mentioned earlier, we are currently in a time where saving every penny is crucial. During this time, turn to endeavors that conserve on your home's energy efficiency and take the easy and necessary steps to reduce energy costs such as cleaning air filters in your home, turning off lights when they're not in use, and sealing any cracks or leaks in your home to reduce heating or cooling costs. 
If you are unable to order certain supplies online, then make a list of ways you can make your home more energy-efficient in the future, such as making the switch to LED lighting or putting solar panels on the roof. Homes that are strong in energy efficiency are reaching higher prices on the market due to their reduced utility bills as well as their low maintenance expenses. Environmentally conscious values are also very popular among Millennials and Generation Z, which are currently entering the housing market. From adding insulation to your attic to replacing antiquated HVAC systems, taking the necessary steps to make your home more energy efficient will undoubtedly pay off in the long-run. This is also a great way to support small businesses and call for a quote regarding future commitments, such as insulation contractors in the area. In the future, we recommend scheduling an assessment with a certified energy auditor or your utility company in order to give you an idea of how your home is wasting valuable energy and how you can take preventive measures going forward.
Pro-tip: If you've been taking this time to bake your favorite recipes, then try your best to not peek in the oven when baking, and utilize the oven's light instead. The oven's temperature can drop drastically each time it is opened, requiring your oven to use excessive energy to bring the temperature back up.
4. Make Your Home Bigger
The square footage of a home has a big impact on its value. If it is in your scope of expertise to create additional living space, then go for it. This can include finishing the basement or even building a deck.
If making your home bigger seems like too big of a task, especially in a global pandemic, then perhaps you can take the necessary steps to make your home
feel
bigger at the least. Unleash your inner artist and take on a painting project; paint your home a lighter color, which is known to make a room feel bigger and more open. Strategically place your furniture in a way that makes your home feel less cluttered, and perhaps consider facing your furniture toward a window. Utilize storage to your advantage by purchasing furniture that functions as a secondhand storage option. There are multiple options that can make your home feel bigger, and if you ever plan on selling your home, then this is a great project to tackle while in quarantine. 
5. Make Your Home Smarter
This is a great time to research all of the "smart" technologies that can make your home more attractive. Although smart technology doesn't always directly increase your home's value, it is a great way to increase appeal, especially for those who consider themselves as "techies." It is also a smaller cost than replacing the roof or renovating the bathroom. Smart technology includes security cameras, door locks and lighting, and even fire detectors. Most, if not all, of the latest and greatest smart home technology can be purchased online and now is a great time to research the gadgets that you've had your eyes on for the past year or two.  
Whether you plan on selling your home after the coronavirus pandemic or selling your home 20 years from now, it is extremely valuable to continue adding value to your home through easy and simplistic measures. Start by cleaning in and around your home, then move on to the more costly or time-consuming tasks. There is always room to add value to your home and when the times comes to sell one of your most valuable possession, the pay-off is all worth it.