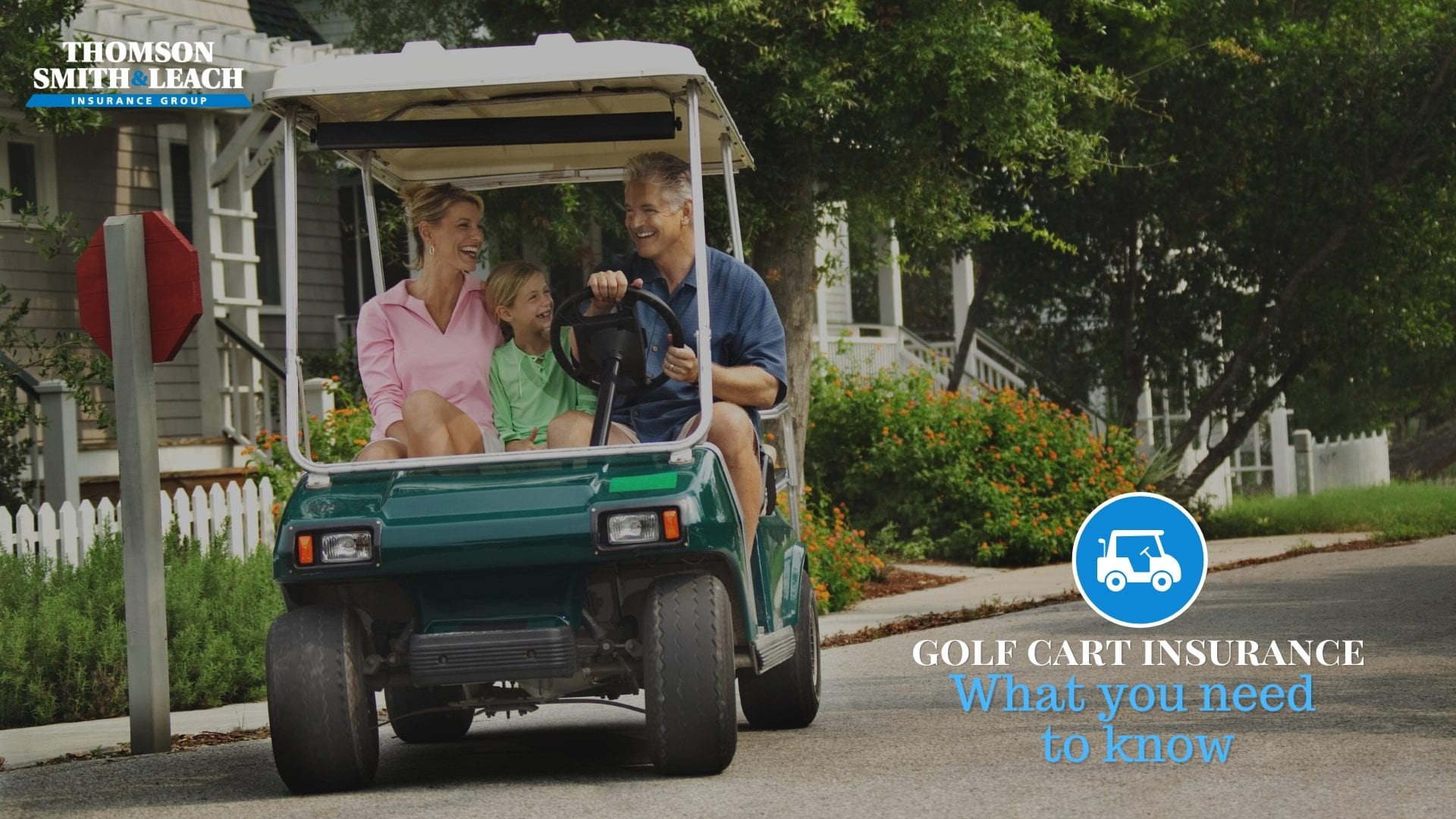 Golf Cart Insurance: What You Need to Know
Your home, car, property, and even yourself are some of the most important investments in your life. Health insurance, auto insurance, and even pet insurance may come to mind when thinking of the most important items to insure. While there are many items in your life that aren't as important, it's still a good idea to insure the items that you've spent money on, including your golf cart. Used to transport actors from their trailers to movie sets or golf players to the next hole, golf carts are a worthwhile investment that should undeniably be insured. There are multiple things that you can do with a golf cart, even if you're nowhere near Hollywood or a country club, such as yard work and general event transportation. If you own a golf cart or plan on purchasing one in the future, read on to learn more about why insuring it is a great option. 
Not only does golf cart insurance cover you in the case of accidents and unforeseen circumstances, but you may also be required to have it by your Homeowners Association (HOA) depending on your neighborhood, or the state you live in. Arizona law, for example, treats golf carts as motor vehicles, requiring drivers to register them and carry liability insurance. In Louisiana, there are multiple usage laws and requirements, including the need for a valid driver's license if a golf cart is operated upon a parish road or municipal street. Depending on which state you live in, be sure to research the laws or contact your insurance agent for the specifics. Also, don't forget that different cities may carry more levels of restriction compared to state law. 
Homeowners Policy vs. Stand-Alone Policy
There are typically two ways that you can insure your golf cart. The first is to add it to your homeowner's insurance policy, however, we advise going with the second option: a stand-alone, specifically designed plan for your golf cart. So why exactly is it better to insure your golf cart alone rather than simply adding a gold cart endorsement to your homeowner's policy? For starters, quite a few insurance companies have distinct restrictions in place, including not covering your golf cart when it is not on your property. And in most scenarios, you'll be using your golf cart some place other than your personal property, right? Some may not cover your golf cart as you are crossing a country road, or even while you are playing golf on a golf course! For this reason, if you are certain that you'll be using your golf cart substantially, both on and off your personal property, it is best to go with an exclusive golf cart insurance policy. Stand-alone insurance policies for your golf cart offer higher levels of coverage and more coverage equals more value. 
What Does a Stand-Alone Golf Cart Policy Include?
Multiple benefits are associated with a policy that is specifically aimed at your golf cart. Keep in mind that these are optional coverage options in states that do not require golf cart insurance. Let's start with the basic coverages, which you may have seen before on your auto insurance policy:
Collision coverage: If at any time, your golf cart collides with another object, such as a vehicle or trees, you will be covered despite who or what is at fault. 

Comprehensive coverage: Also referred to as "other than collision," this coverage protects you against damage to your golf cart caused by fire, theft, or vandalism; basically, anything other than collision. 

Liability coverage: This type of coverage is most often required in states requiring golf cart insurance. Guest passenger, bodily injury, and property damage liability all fall under this category. If you personally cause an accident that results in the harm of another individual or property damage, liability coverage can help.  

Medical payments: This coverage deals with injuries that happen to another individual that require medical attention. It provides coverage for medical bills of injuries resulting from your golf cart.
Other Optional Benefits of a Stand-Alone Golf Cart Policy
Multiple other secondary coverage options may be offered when insuring your golf cart. Some may include: 
Annual policies: This ensures that you're covered every day of the year, even in the off-season.

Trailer coverage: This coverage is beneficial because a lot of people often carry their golf cart on a trailer. For this reason, trailer coverage may be offered at a discounted or inexpensive price. 

Helmet and safety apparel coverage: This impressive benefit covers the loss or damage of any apparel associate with your golf cart that is damaged in a covered collision loss. Although this may come in handy more so for dirt bikes or motorcycles, it's still a great option to ensure the most protection for your ride. 

Uninsured motorists coverage: It's better to be safe than sorry, even when it comes to riding your golf cart. This optional coverage protects against injuries resulting from an uninsured motorist.
 The Price of Golf Cart Insurance
Ready for some more good news? A stand-alone policy is normally about the same price as an attached homeowner's policy. Of course, this can vary depending on your insurance provider, so contact yours to learn more. Although golf cart premiums tend to be inexpensive, there are discounts along the way that can make you feel better about your choice. Some of these discounts may include:
Paid in Full: Receive a discount if you pay for the entire policy in full for 1 year. 

Multi-Vehicle: Suppose you're taking your golfing to the next level and own more than one golf cart. You can insure both of these golf carts on to the same policy and receive a multi-vehicle discount. 

Multi-Policy: If you already have an insurance policy with your provider, then you may be able to receive a multi-policy discount. 

Safety Precautions: Certain approaches to safety can be taken to receive a discount on your premium, including a safety course or installing safety devices. 
Even if your city or state does not require golf cart insurance, it's never a bad idea to add extra insurance to your investment. Without it, you'll be liable for paying damages and medical bills out of pocket. Whether you're cruising down the golf course, or just having some extra fun at home, insuring your golf cart is advantageous in case of the unexpected. Contact us today to learn more about your specifically designed golf cart plan and your multiple options for coverage.